The best way to clean my Corian worktop
Due to the current COVID-19 pandemic, it is all the more important to keep your surfaces germ free. We're sure that keeping your surfaces hygienic and free of bacteria has become a crucial fixture in your day to day thinking, and so it should be! As well as keeping your kitchen worktops at showroom standard for a prolonged period, it can give you peace of mind that your surfaces have been rid of bacteria that can potentially cause the spread of illness.
So, like many, if you have been wondering what the best way to clean your Corian worktop is, then needn't worry. Stone Design, the kitchen worktop experts, are on hand to tell you how.
How to clean a Corian worktop
Corian is a durable and hygienic nonporous surface and can prove to be the perfect solution for anyone who is looking for a show stopping kitchen worktop that will be a main attraction in your kitchen for years to come. For day to day simple maintenance and daily care, we recommend using a nonabrasive cleaner to help you keep your surface looking shiny and smooth.
However, if you encounter a stain that is more stubborn, we recommend that you use Bar Keepers Friend cleaning agent or Cif Original Cleaner. To use it effectively, put the cleaner on a microfibre cloth using circular motions on the stain you are trying to tackle. Then remove any residue with a clean-cloth, it really is as simple as that!
Why is Corian an ideal work surface to clean?
Due to Corian being totally nonporous, it means that dirt or germs are unable to penetrate it and will be left on the surface itself. This means that you can even prepare a product such as fish on the surface, then wipe clean using the method we highlighted above, then roll pastry for the next part of your food preparation! We can assure you that there will be no transfer of smells or bacteria so you will able to prepare food freely on a Corian worktop in Liverpool or anywhere else without this worry.
A Corian solid surface is very durable, meaning that stains and scratching can be easily avoided with very little maintenance.
How can Corian worktops last you a lifetime?
Even if you damage or scratch your surface and leave it in a way that cleaning it just won't solve, then fear not, Stone Design can help you bring it back to good as new condition in no time! We offer a repolish service, so even if your surfaces are looking a little tired after years of wear, you can have them renewed to give them a new lease of life.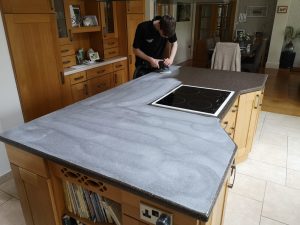 Contact us
Do you own a Gray Corian worktop and would like it restored to it's premium condition? Or would you like a free brochure or Corian samples to see which shade would best suit your décor? If so, be sure to get in touch with the team at Stone Design today for a FREE quote! Simply fill out our online enquiry form or email us at stonedesign@btinternet.com, or get in touch with us directly by calling 01744 882364.